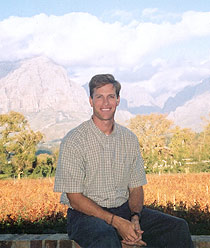 Raised in Atlanta, GA, Jason attended Duke University in Durham, NC on a Navy ROTC scholarship. After graduating from Duke in 1991 with a degree in political science he traveled to Pensacola, FL and enrolled in naval flight school. In 1993 upon moving to Virginia Beach, VA, he learned to fly the A-6E Intruder as a Bombardier/Navigator and was subsequently assigned to a fleet squadron, deploying on the USS Enterprise.
In 1997 Jason left Virginia Beach to begin a tour of duty as a navy medical recruiter in Phoenix, AZ while attending Arizona State University's Evening M.B.A. program. After leaving the Navy in 1999 he worked for one and a half years as a civilian headhunter recruiting senior executives for health insurance companies.
Upon finishing his M.B.A. in August of 2000 and before entering the business world full-time, Jason departed on a 15-month world trip September 18th, 2000. He returned to the United States on December 18th, 2001 and took a job as a commercial real estate executive.

He currently works at Cresa, a corporate real estate firm dedicated to occupier services where he leads Cresa C3, the Information Technology service line for Communications, Connectivity and Cloud computing. Jason's specialty is helping companies navigate the best business technology choices, promotions and bundles for phones, Internet and cloud-based computing, especially when they are relocating. He currently resides in Atlanta, GA where he still enjoys a good trip from time to time. View Profile
Jason Jones - Nomad: Letters From a Westward Lap of the World
Home | About the Author | About the Book | Excerpts | Reviews | Contact the Author
Content and Photography © Jason Jones | Site Design © WebWorksPro.Net, Inc.